My job can be pretty interesting in the stone restoration field. I get to see lovely homes and influential buildings, but I have a soft spot for the restoration of historical buildings. I believe it is important to keep the culture alive in a city as modern as Houston. Some of our downtown buildings are of the art-deco era and we jump on the opportunity to preserve these historical stone floors, walls, columns, etc.
We were recently given the opportunity to restore a terrazzo and marble entry of a building. Interestingly, this entrance at one point was the main entrance of the building, but over time the structure expanded and a grand granite lobby was ultimately added. In time, the small terrazzo and marble entrance was less traveled and all its luster and color had faded away…until International Stoneworks came on the scene!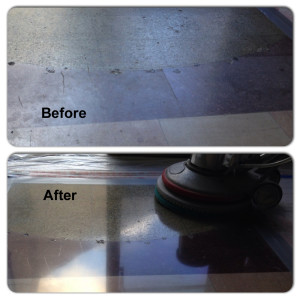 It took several rounds of diamond grinding to remove the many scratches, we then had to fill deep holes along the edges of the floor. (Apparently nails had been used to hold down carpet at one point.) There is a small staircase as well that we had to polish all by hand. After our diamond grinding, we did a final polish with our no-wax polishing compound. The difference in not only the shine, but also the color of the stone was astonishing. Our restoration work breathed new life into this once beautiful building entrance.  The dulled terrazzo is now a vibrant green! The tired marble is now a gorgeous crimson and pink! I could not be prouder of our work and I am happy to say that we played a part in preserving a small piece of Houston history.