TISE East 2014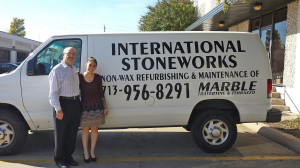 "I don't really know too much about the Facebook and Twitters . . ." says my dad, the man who has 32 years of experience in the stone industry.  I always get a little giggle out of that and I always correct him, "Dad, Twitter is the program and tweet is the action verb."
My father, Rawi may not know about managing our website and social media, but the man knows his business. He is extremely knowledgeable and professional and I am fairly computer savvy and willing to learn. It is our differences and strengths that make us a pretty good team.
My dad is a lot more than just my father and my boss; he is my mentor. It is his job to teach me and guide me in the stone business and it is my job to soak up his advice like a sponge. Who wouldn't want to learn from a man that started his own business from the ground up and has worked with stone for 32 years?  We are fortunate that we get along well at work and in our personal lives, but on the occasion that I do not agree with him on a certain matter, I broach the subject with him privately, outside the office. I think it is important to come across as a team to our clients and employees.
My dad has the philosophy that he is willing to try new methods and to adjust to developing technology. When I started five years ago at International Stoneworks, I asked my dad if he would mind if I created a Facebook page. He may not have known exactly what Facebook was, but he was completely on board with the concept. A year later, I began a Twitter account and signed up for LinkedIn. I then started a weekly blog, created a Google+ account and completely redesigned our website including online purchasing of our products. There is a give and take in our family business. My dad teaches me the basics about natural stone and the techniques of stone restoration and in turn, I contribute to the business by keeping it current and increasing the company's visibility.
As a young woman growing and learning in the stone industry, my experiences are, of course, different from my father's. However, I believe (and I think my dad would say so too) that my female perspective allows me to observe the smaller details. I can consider the practicality as well as the aesthetics when it comes to restoration projects. I always try to think, "What would I want in my own home?"  My detailed eye and femininity compliment my dad's years of knowledge and experience.
This is just a preview of what we will be discussing at TU03: Family Business: Talkin' 'Bout My Generation at TISE East Tuesday, October 21, 2014 8:00 a.m. to 9:15 a.m. My father and I will be presenting with David Benson and Betty Sullivan of Architectural Ceramics, moderated by Tony Malisani of Malisani Inc. We also want you to share your ideas, challenges, and solutions.