1. Try to restore before you replace
Yes, it is possible to restore and re-polish that dingy and worn stone floor. Whether you have a marble, travertine, granite, or retro terrazzo tile floor, all these stones can be honed and polished.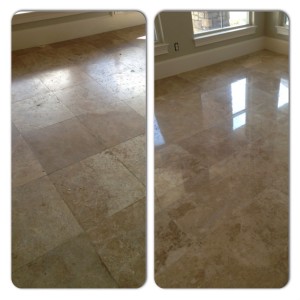 Textured stones that have a lot of embedded dirt or mildew can also be scrubbed with specialty brushes and cleaners. Slate and flagstone exterior patios or pool decks can be restored and can look a lot cleaner.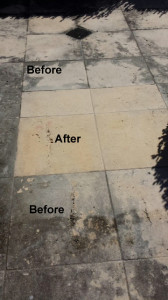 2. Honed or polished finish
It is a good idea to know what kind of finish you like. Do you like a honed/patina finish or do you like a high polish? Or maybe even something in between? Both finishes are possible on travertine, marble, terrazzo, and limestone. You just have to decide if you want a rustic look or an opulent high gloss finish.
3. Epoxy or cement grout
You actually have a lot of choices when it comes to which grout you want in your home or building. For high traffic areas like bathrooms and kitchens, you may want to consider something more than just your standard grout. You could also use a high performance grout or if you manage a commercial building, you may want to consider epoxy or pre-mixed grouts.
To find out more information about the various grouts, click here.
Keep in mind that cement grouts can be sealed with penetrating sealers. Another good thing to remember is even if you have an epoxy grout, white grout is more likely to show dirt on the surface.
4. How much maintenance are you willing to do?
Marble, travertine, limestone, and terrazzo typically react to acids, ammonia and alcohol. Most granites do not react (or at least not immediately). Example, if you have marble countertops and tomato sauce or vinegar spills on the marble, you are going to see an etch mark. Etch marks are chemical burns on the surface of the stone that look like the shine or the finish has been removed.
These types of stone will most likely need to be re-honed or re-polished every so often in order to remove these etch marks and fine scratches. International Stoneworks would be happy to provide you this service.
Remember: sealers do not stop acids, ammonia, or alcohol from etching stone (but please do seal your stone with a penetrating sealer, like Seal & Go® S at least once a year because sealers are great against oil, grease, coffee, and tea).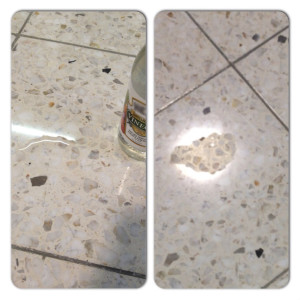 5. What makes you happy?
At the end of the day, you have to do what you like and what makes you happy. If you've always dreamed of a marble kitchen, then don't settle for something that won't make you happy. As long as you have done your research and you know how to maintain your stone, pick the material and stone finish that you love!