Think back to your high school chemistry class. Do you remember sitting at your lab table with your partner mixing chemicals? You may not have known it at the time, but that lab table was probably made of slate. Yes, the same slate that is used on the floor of rustic homes and back patios.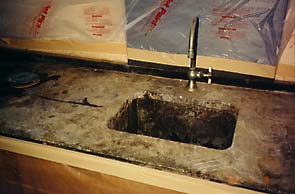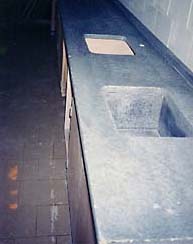 Slate can look polished or textured (cleft). It comes in a variety of colors such as gray, green, dark yellow, and even red. Slate tends to be more chemically resistant than some other stones such as marble. Some slate can also be more scratch resistant than other natural stones as well.
Per the Marble Institute of America, "Stone Dimensions" publication:
"Slate is primarily composed of quartz and illite, with mica, calcite and other materials. The grey and black colors are due to carbon and/or graphite. Red shale is caused by the presence of Hematite, while greens colors are due to Chlorite. Shades of red, purple and tan result from the amount of iron oxides contained in the stone."
How do you keep slate clean?
Even though slate does not react to chemicals as easily as marble, we still advise cleaning slate with neutral cleaners. We recommend cleaning slate floors with Lavenet neutral stone cleaner and slate tops and showers with Akemi Crystal Clean. Crystal Clean will also help reduce calcium deposits and soap scum build up as well.
We do not recommend power washing or steam cleaning slate floors, especially textured slate. These harsh processes may remove some of the top layers of this foliated natural stone.
We also suggest that customers seal slate on an annual basis to prevent substances such as oil and grease from staining the slate surface. We recommend using Seal & Go® S for those who like a natural, no shine look. Alternatively, you can enhance the color of slate to give it the "wet look" by protecting it with Seal & Go® Enhancer S: this sealer will slightly darken the slate without adding shine.
For those who want to add shine to textured slate floors, you can use a topical sealer such as Seal Out.
What are some maintenance problems that you may encounter with slate?
Over time, exterior textured slate floors may accumulate embedded dirt or white calcium deposits caused by rainwater, sprinkler systems, etc.  If this does occur, call International Stoneworks, Inc. and we would be happy to professionally scrub clean the slate using our soft scrub brush with a specialized floor buffer.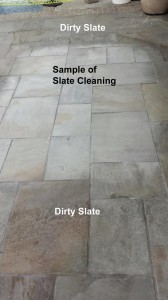 If you have a polished slate surface, you may eventually see light scratches or traffic patterns on the surface. These areas can be re-polished by International Stoneworks, Inc.