What sets International Stoneworks, Inc. apart from other stone restoration companies? That's an easy question to answer: what makes us unique is our willingness to try. Yes, we restore stone floors, countertops, and showers like other refinishing companies, but we also restore surfaces that can be a bit challenging, such as historical buildings, walls, and staircases. We don't shy away from the difficult jobs because we enjoy a challenge!
1. Restoring the exterior white marble walls on a downtown Houston building:
The vents were creating a black stain that ran down the entire marble wall. We were able to scrub clean and hone the marble to remove these black stains.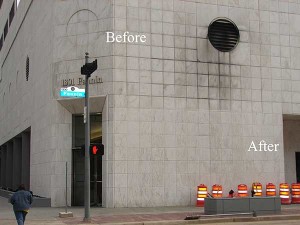 2. Removing carpet glue from the limestone and terrazzo floors in a historical downtown building:
In the 1970's building management decided to cover their stone floors with carpet. In 2013, International Stoneworks was called in to remove the glue and restore the limestone and terrazzo floors back to their original glory.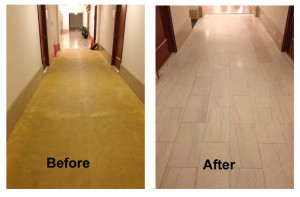 3. Restoring flamed and polished granite floors after an old serving counter from a restaurant was removed:
We were able to clean off years of grease buildup and removed deep scratches that were left after the counter was removed. We were also able to blend the exposed stone with the discolored stone that had been covered.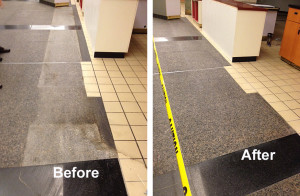 4. Removing deep discolorations from an exterior granite sign:
After a prominent tenant in a building moved, building management had to remove that tenant's name off the exterior granite sign. When the name was removed, the granite was discolored and etched, not to mention that the entire sign had lost its polish after being exposed to the elements. International Stoneworks re-polished the sign, making the discolorations and etches completely disappear.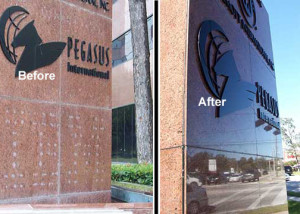 Those were just a few of our accomplishments. Here are some other interesting projects that International Stoneworks performs on a regular basis:
Diamond grinding restoration
Non-wax restoration of ceramic, porcelain and quarry tiles
Lippage removal (removing the height differential between stone tiles)
Travertine filling of already installed unfilled travertine floors and walls
We take on the difficult and unique stone restoration jobs and that's what makes us exceptional.