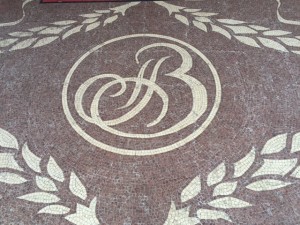 On to my next stone adventure in Colorado Springs! I was lucky enough to stay at the historical Broadmoor Hotel, which is almost 100 years old.
The Broadmoor was founded by Spencer Penrose, a Philadelphia entrepreneur who made his fortune in copper and gold mining. He purchased the Broadmoor in May 1916, which at that time was a casino. His goal was to create a world renowned resort. He hired the New York based architectural firm, Warren and Wetmore to help conceive this grand idea, along with a team of imported artisans from Italy.
I just love the marble surfaces at this hotel. The curved marble staircase in the original main building was pretty spectacular for its time when the hotel opened in June 1918.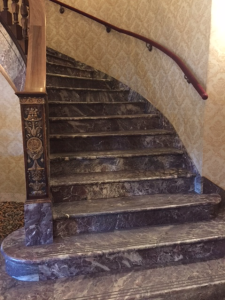 In the 1960's and 1970's major additions were made to the hotel including golf courses, the International Center, and more guest rooms of course. Since that time the Broadmoor has steadily renovated and increased in size.
My favorite marble feature on this property has to be the bookmarked marble staircase in the South tower of the hotel. The attention to detail in this installation is truly striking. The bookmarked effect carries up throughout the stairwell.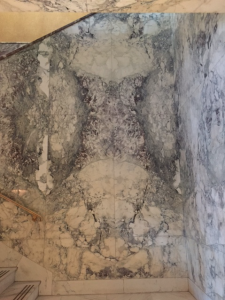 I also appreciated the delicate marble accents on the exterior façade of the hotel.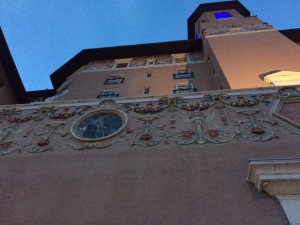 Throughout the various buildings the floors are mostly white marble. I'm always a fan of white marble, but I would love to re-polish those floors. As you can imagine there is quite a bit of foot traffic every day.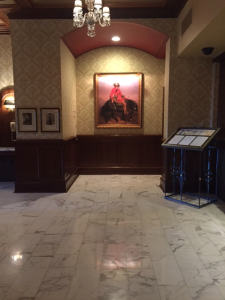 All in all, I had a wonderful weekend in Colorado Springs and I was surrounded by gorgeous polished stone surfaces inside the Broadmoor and colorful Colorado landscape outside.
Stay tuned next week for Colorado Springs part II, my tour of the Garden of the Gods and Pikes Peak Cog Railway!