Natural Stone Polishing
The following recommendations should serve as a guideline. For specific situations or special cases, please contact International Stoneworks, Inc.
To maintain the polish on marble, limestone, travertine and granite countertops, spray a light application of Stone Essentials™ Countertop Polish on a weekly or monthly basis. (Do not use on floors.)

Marble, travertine and limestone are susceptible to "etch marks" (chemical burns) due to acid, ammonia, and alcohol. We hear people calling these marks "hard water spots," but really they are etch marks.

To remove small etch marks such as glass rings, acidic spots from lemon, vinegar, etc., use the Etch Removing Kit.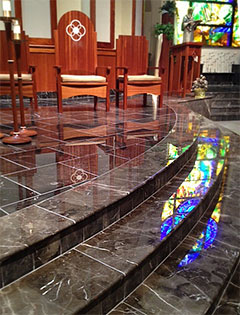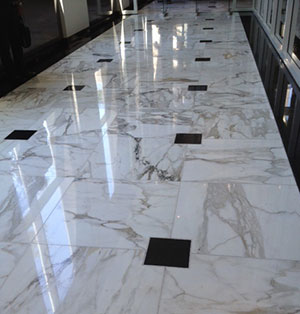 Natural Stone Polishing for Commercial Buildings:
For marble polishing, limestone and travertine polishing, and terrazzo polishing, maintain the traffic areas with the following:

Ver Glow #1: non-acid honing (sanding) compound to remove fine scratches and etch marks.
Ver Glow #2 (non-acid) or Fivextra® Plus (mild acid): polishing compounds

For green marble and polished granite restoration, maintain the polish on the traffic areas with the following:

Green marble: Emerald Sparkle® and Buff & Go® Plus
Polished granites: Granite Glow® and Buff & Go® Plus