Many of you know that I am an active member of Women In Stone. Its goal is to provide resources and opportunities to recruit, retain, and advance women in the stone industry.
One of my best friends, Estefannie also finds herself in a male-dominated industry, computer coding and programming. Not only is she my friend, but she and her husband, Sean Howard also completely built the International Stoneworks App for Windows, Android and Apple!
This week I'm featuring an interview with her to see how she makes a difference in her own profession.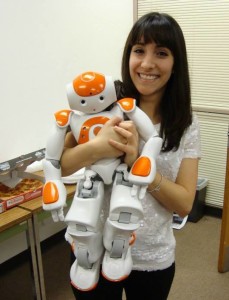 Tell us a little about yourself. Why did you move from Guadalajara, Mexico to Houston?
I was born and raised in Mexico and my aunt gave me the opportunity to move in with her to attended college in Houston. I didn't think twice and packed up to move in with her and her family. It was the best decision of my life and I am, and will always be extremely grateful for the opportunity. I believe my life wouldn't be as awesome as it is now if I had not moved.
What made you want to join the computer programming industry?
In one word – Pixar.
One of my favorite quotes is by Arthur C. Clark on his "Third Law of Prediction," "Any sufficiently advanced technology is indistinguishable from magic." This quotation perfectly describes what happened twenty-one years ago when I saw the first feature-length CGI film – "Toy Story." I knew the film had been created using computers and so I associated computers as the tool that can create anything in your imagination. And boy was I right. Many years later, I saw a documentary about Pixar and I learned that the people behind the films were computer scientists and this is how I found the degree I was looking for.
I graduated with a B.S. in Computer Science and a Mathematics minor. I learned all about computer architecture, operating systems, and how to create web apps, mobile apps, video games, and all kinds of computer applications. I continue to learn after graduation and with every new skill I learn, the more excited I get about programming … and doing magic.
I know you started CS Girls; Can you tell us what CS Girls is and why you began this club at the University of Houston?
CSGirls (or Computer Science Girls) is an organization for women with the shared interest in technology and computing. The club hosts meetings, workshops, tech talks, and networking events every other week at the University of Houston. In 2014, CSGirls became an ACM-W (Association for Computing Machinery – Women) official local chapter.
I founded the club with the mission to create a community to better support students and to strengthen the impact of women in technology. I was inspired by Anita Borg and her mailing list "Systers" and I started a mentorship program within the club – everyone can become a mentor or mentee to help one another to become academically successful. We started hosting workshops with new and exciting technologies, where CSGirls' members could play with and collaborate to create something awesome. We also started bringing leaders in the technology field to give tech talks and round table discussions with the members.
In addition to the club's events, CSGirls help promote computer science in the community by participating and volunteering in Houston-based events. For example, CSGirls partnered with Microsoft and NASA to teach middle school girls to make mobile apps; we also volunteered in GEMS (Girls Exploring Math and Science) and Science Hack Day Houston at the Houston Museum of Natural Science.
CSGirls continue to support students and women in tech, and it makes me very happy to see that the current officers and members believe in this organization as much as I do and continue to work on our mission.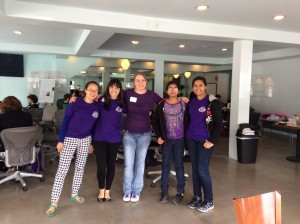 How do you set yourself apart in a male-dominated industry? What lessons have you learned along the way?
A good way to stand out in a male dominated field, at least in my field, is to not stand out as a female software engineer but as a good software engineer. I work very hard towards becoming an integral part of the team and I do this by proving my technical skills, by constantly learning and improving, and by being adaptable to new tech and ideas.
I have learned that you have to create your "support" group at work. They know your skills; they rely on you, and you can rely on them. I also have learned that you have to become a leader, be knowledgeable, and take ownership of your project to gain credibility.
Where do you think the future of computer programming is headed?
The future of technology is automation. Cars are being automated, my current job is automating rigs, and I believe we will require it more and more.
As far as programming, the future is automation as well, that is metaprogramming. Basically a program that can write its own algorithm. It can read, watch, and modify other programs as well as modify itself while running. This will be useful for many applications, specifically Artificial Intelligence.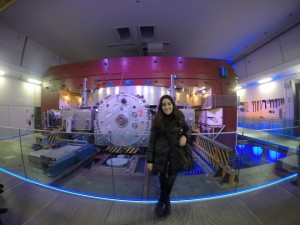 How do you feel women in male-dominated industries can make a difference?
Women can make a difference by becoming role models to younger girls. This will help the schools and programs that are already working on empowering and inspiring girls to pursue a career in a gender-imbalanced field. We can all continue this effort by volunteering in the outreach programs available in our own companies or in our city. For example (in Houston), the Girls Scouts of San Jacinto Council and the Houston Museum of Natural Science put together an event called GEMS (Girls Exploring Math and Science) where organizations and professionals sign up and volunteer to provide a hands-on science and math experience and answer questions about their careers. By exciting and impacting girls at a young age, we can spark their curiosity towards our field in the hope to get them to consider it when choosing a field of study.
Women can also make a difference by attending, volunteering, and supporting organizations within their fields. In the tech industry for example, women can join the "Systers" mailing list, the Anita Borg Institute, local user groups and college organizations. I believe that the more women attend, volunteer, and support these organizations, the more women will stay within their field and attract even more women to these fields.
What fun projects are you working on?
So many projects – so little time!
Programming-wise, Sean and I started working during our free time on a cross-platform mobile app (which I can't say much about publicly yet), and a videogame for the PC and consoles. We are aiming to have the app's beta by the end of the year. The video game will take more time since we are working with artists to compose the music and create the overall art. We want the game to be an awesome experience for the player.
This year, I also volunteered to organize and host Science Hack Day Houston 2016 at the Houston Museum of Natural Science. It was an all-night event that brought people from all mediums and industries (designers, techies, students, programmers, and engineers) together to collaborate and create an amazing project from scratch in 24 hours. It was a lot of fun to watch and witness how the teams formed, their brainstorming, how their ideas morphed throughout the event, and especially everyone's excitement to create something new and useful for science.
My latest project and my favorite at the moment, is my YouTube channel (Estefannie Explains It All). Every week, I will upload five-minute tutorials where I combine theory and practice of data structures, algorithms and basic principles of computer science for anyone who is interested in a quick refresher course. It will also be useful for self-taught programmers who would like to learn more about computer science.
Tell us about Digital Schematics.
What Sean and I both love about programming is that we can create anything we can imagine using logic, creativity and a compiler. We have been working on several side projects, and early this year we decided to partner up to start Digital Schematics – a software company for all of our ideas.
We have several projects coming up; the idea is that all of the apps and games that we submit to the App Store, Play Store, Steam, etc. will be part of the Digital Schematics portfolio. We are very excited about this new journey we are taking!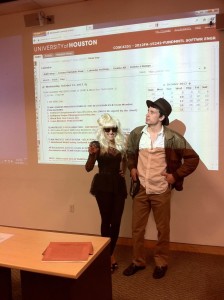 Where can we learn more about Digital Schematics?
Twitter: @DigiSchematics
Instagram: @digitalschematics
Google+: Digital Schematics
LinkedIn: Digital Schematics
Contact@digitalschematics.com
Any parting words or advice to other women that want to learn computer programming?
My two cents to all the people who are about to learn how to program and are doing online tutorials and boot camps, and to all the people in college pursuing computer science degrees: be extremely patient.
This is something my mom advised me when I was little, but it didn't really click until I was in college. I was doing my Linear Algebra homework with my friend and I was stuck with the first problem; I was getting very antsy. After trying to brute force the first problem several times, my classmate stopped what she was doing, looked at me in the eyes and said, "Estefannie! You need to be patient." I was so embarrassed – it did click this time. After that, no matter what problem I face, if I do not find the solution right away, I tell myself, "Estefannie! You need to be patient." Sure enough, I can find the solution later.
I want to pass this one on. Solving complex problems will require all your patience. It doesn't matter how much math or computer science you've studied or how long you've been programming, at some point you will find yourself in a situation where you will not find a solution right away. You need to breathe in and be patient – some problems will take more than 10 minutes, a couple of hours, several days, or more than a week. Just keep trying to find a solution and most importantly know you will find a solution.